Upgrade APP N_eye3C For MVTEAM WiFi Smart Cameras Support Human Tracking
Grace
www.mvteamcctv.com
2019-04-02 14:10:31
The new app named N_eye3C, it's with the same interface as V12, but they are different APP.
FAQs About the New APP:
1. Why MVTEAM don't upgrade the APP based on V12?
Because N_eye3C and V12 are based on different servers, N_eye3C is using Aliyun server, it's more stable and with servers in many countries all over the world.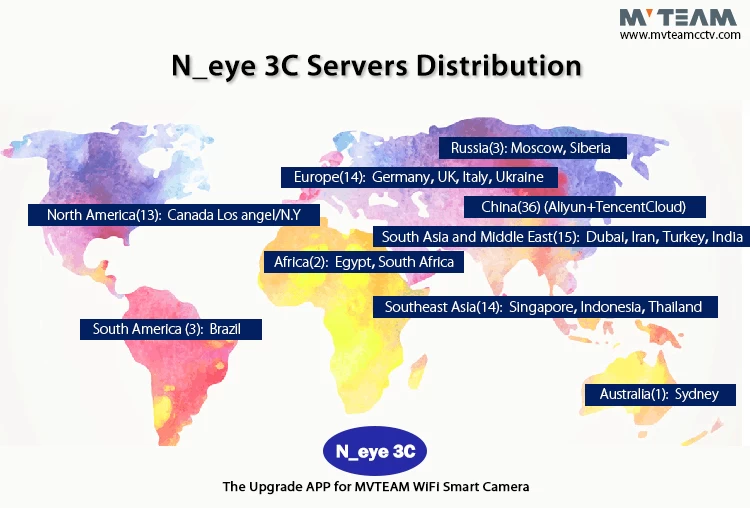 2. What's the advantage of N_eye3C than V12?
N_eye3C supports PIR human tracking and alarm (VR human alarm). After enable this function, the camera will tracking the human body and prompt voice alarm when there is a humanoid object. It also supports send the alarm to mobile phone. Know details from below video:
3. Which version WiFi smart cameras support the N_eye3C?
Only the wifi smart cameras which MVTEAM factory produce after April 1st 2019 use the APP N_eye3C.

4. I have MVTEAM smart cameras which use V12, can I use N_eye3C to control the cameras?
No, can not. The two APPs are using different servers, the old version cameras don't support N_eye3C. We will continue to maintain the V12 APP and make sure it works all the time, please don't worry.
WiFi smart security cameras are popular sale in the market. It can be use as home camera, pet camera, baby camera, shop camera, nanny camera, elder camera. Welcome contact us to ask the factory price list.

Whatsapp, wechat, mobile phone: +86 13632876665
Email: sales@mvteamcctv.com
Facebook: https://www.facebook.com/mvteamcctv/