Tips for finding the Right Security Camera System
Melody
www.mvteamcctv.com
2017-01-19 14:42:06
Security cameras come many types and have seemingly endless feature options. With so many different kinds of home security cameras available, deciding which one makes sense for your home can be a daunting task. The information in this guide will give you the knowledge you need to find the security camera or cameras that will help you keep your home and your family safer.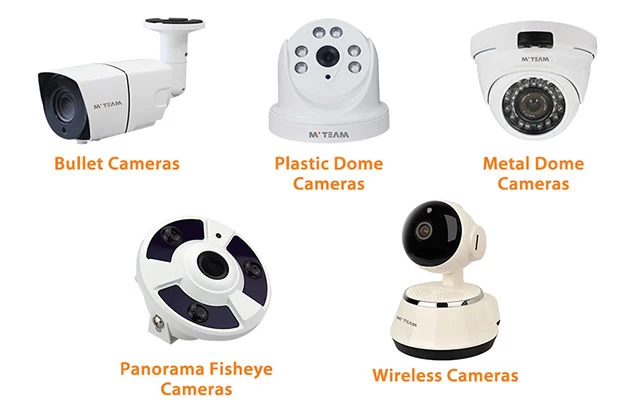 What to consider when purchasing security camera systems ? Below are some of important features to keep in mind when comparing home security cameras.
Camera Types
The different types of surveillance applications require security cameras with different capabilities. In addition, every user has his/her unique needs that have to be catered to by the type of cameras they select.
Regarding the camera types, please check:
Common Types of MVTEAM Security Cameras
Camera Lenses
The choice of camera lenses will determine the amount of light that a camera can focus on its security camera systems sensor in order to create an image. In addition, lenses determine the distance and viewing angle of the camera.
More details about camera lens please check:
How to choose a CCTV camera lens?
Camera Resolution
Resolution defines how clear the image from your camera will be. A clearly visible image is very helpful when trying to identify faces or items in the images your camera records.
For Camera resolution you can check :
How many different resolution in CCTV Surveillance System?
Wired or Wireless?
Whether or not you want your security camera to be hardwired or not is another factor in your decision. Wired surveillance cameras typically send a more solid and secure video signal because they transmit via cable and not through the air, but can take more money and effort to install because wiring needs to be run. That either means hiring an installer, or buying the cable and taking the time to do it yourself.
On the other hand, wireless cameras can be placed virtually anywhere with ease, because you don't have to worry about running new cable or patching into existing cable runs. Signal security is also becoming much less of an issue, thanks to ever-improving encryption protocols like WIFI Protected Access (WPA) and Temporal Key Integrity Protocol (TKIP).
Audio choice
Integrating audio into a surveillance system makes it possible for personnel to hear and speak with possible perpetrators. It can be easily integrated with video management systems.
From a surveillance point of view it can also be used as an independent detection method triggering recordings and alarms when audio passes a certain threshold. 
P2P allowed?
Nowadays almost all the CCTV security system come with the P2P mobile app for remote viewing. It is great development for the Security filed. That makes the system more easy and convenient for users.
MVTEAM Different system has the different app for mobile phone, more details you can check the Technical Article for DVR/NVR.