How to become a general or exclusive distributor for MVTEAM CCTV Products ?
Grace
www.mvteamcctv.com
2017-04-14 15:50:10
We often receive inquiries which ask how to become our distributor,different factory has different distributor policy.Here we will introduce how to become MVTEAM CCTV products distributor.
Secondly

,please let us know you want to be agent of which City or Country, because we already have agents in some cities of Nigeria,Cameroon,Libya,Sri-Lanka,Venezuela,Myanmar,Guadeloupe,Tunsia,Kuwait etc.We need check whether already has distributor in your city.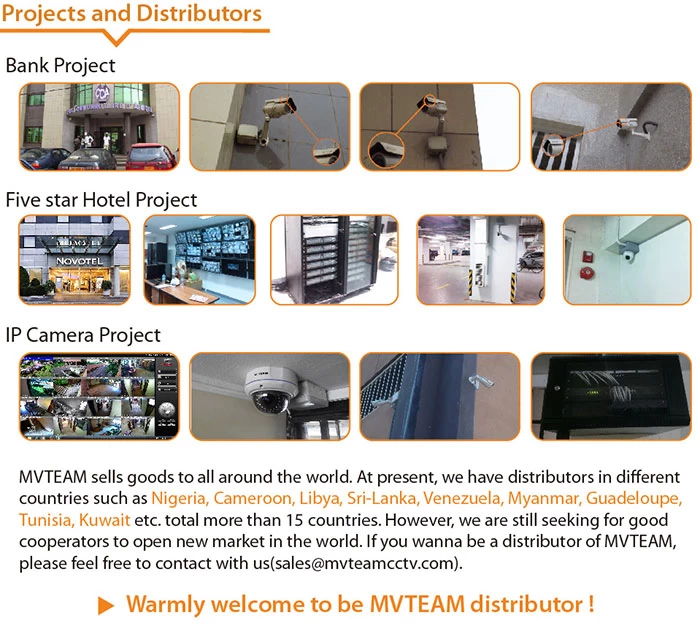 Fourth

,we have two kinds of distributor

:

general distributor and exclusive distributor

.
Please let us know you want to be which kind of distributor.
1.To be a general distributor of MVTEAM, we do not have any special requirements.
The only one condition is that your order quantity needs to reach our

MOQ

.Then We will provide:
1) print MVTEAM logo for you
2) using MVTEAM dedicated package.
3) if your order reaches

USD****

, we will give you two free X-banners for marketing promotion

2.To be our exclusive distributor in your city, the year purchasing amount should reach

USD******

and sell MVTEAM logo products.Under this condition, we will:
1) do not sell goods to any customer from your city except you.
2) For each order, if the order amount is more than

USD****

, we can make two X-Banners for marketing promotion if you have the physical shop.
3) the pictures with MVTEAM design for your online marketing.
4) certificates from MVTEAM(with MVTEAM stamp) to show that you are the exclusive distributor in your city.
It's not convenient for us to post the MOQ and USD amount in public,if you are interested to be our distributor,please send email to sales@mvteamcctv.com to ask for details.