How to connect when monitor is 100m away from DVR?
Grace
www.mvteamcctv.com
2017-02-06 16:54:43
Some customers ask whether can connect DVR to monitor which is 80m~100m away from DVR? The answer is "Yes",but it's better to avoid such kind of situation,because it will increase
cost and decrease image quality.Anyway,here let's talking about how to realize the connection.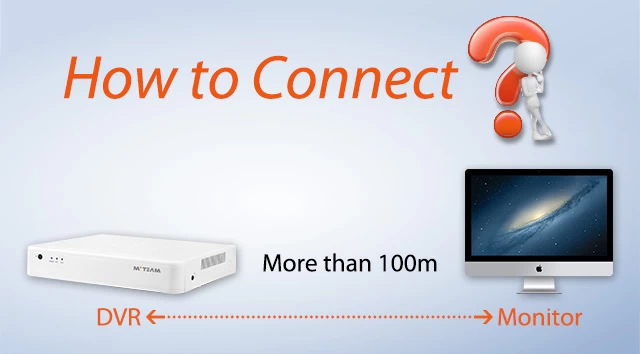 Most DVR support HDMI,VGA and BNC video output as below:
When the distance between monitor and dvr is 80m~100m,the economic way is use BNC connector+RG59 coaxial cable connect the dvr to monitor,the monitor should have AV interface,if no,need add a AV to VGA converter.So it's better use TV set as monitor since it has AV input.If the image effect is not good,also need consider to add video amplifier.
Another way is adopting good quality VGA cable+VGA extender,it will 
increase a lot of cost.
For HDMI cable,the
transmission
distance is within 10m,don't fit for such situation.
The best way is connect the monitor near to DVR,it can save cost and ensure the image quality.If must connect far away monitor,we suggest use coaxial cable+TV set+ video amplifier.