MVTEAM Hybrid AHD DVR Released—3 Modes in 1 Type
www.mvteamcctv.com
2015-11-01 15:09:22
Author:Selena      from  www.mvteamcctv.com   Date:2015-4-09
MVTEAM has released a new product today--Hybrid AHD DVR.
The Hybrid AHD DVR has not only mixed AHD DVR and 960H Analog DVR but also mixed the NVR.
It is the 3 modes in 1 AHD DVR (AHD DVR+960H Analog DVR+ NVR).
Thus, one DVR can satisfy your multiple choices.
 
Below is the picture from MVT-AH6516H. It has 4 modes for choices.
*16ch AHD 720P DVR
*16ch Analog 960H DVR
*8ch (720P AHD) +8ch (960H Analog) DVR
*16ch 1080P NVR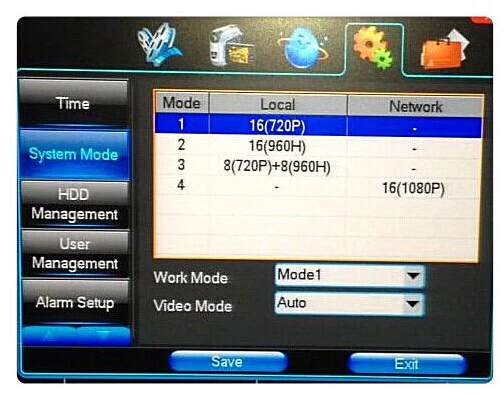 AHD technology is getting more and more matured in the market.
More and more customers use it to replace the analog system.  
It develops so soon and the 1080P AHD will come out soon.

To promote the new products in your market earlier, the more profit you can get from it.
Welcome to test samples.

Shenzhen MVTEAM Technology Co.,Ltd is a professional manufacturer and exporter of P2P AHD DVR,NVR,Analog DVR.All kinds of MVTEAM DVR can be managed in one CMS software.Welcome contact us to ask more questions about DVR.