MVTEAM Waterproof Dome Camera
Selena Lin
www.mvteamcctv.com
2015-11-26 11:37:11
Customers generally ask for waterproof dome cameras. However most of the dome cameras are used only indoor.
Why? Let's see closely of the dome cameras.
When you see closely of Vandal-proof dome camera, there are holes left for screw using when install.
These holes may lead to waterlogged. So it can not be strictly waterproof.
But there are still some customers who install such dome cameras under outdoor eave.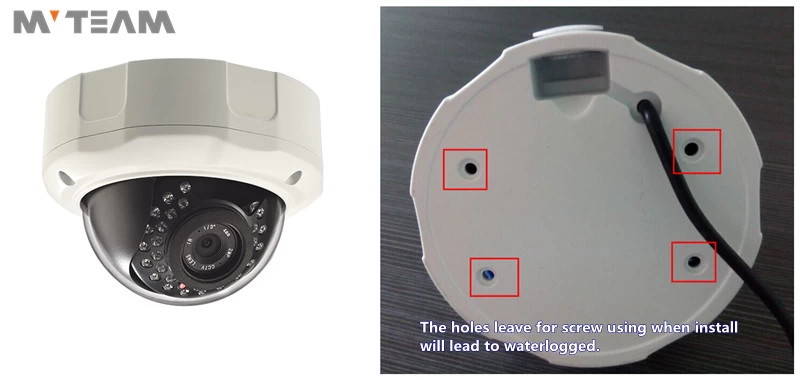 If you need strict waterproof dome cameras, some dome types which are designed with separate base can achieve as MVTEAM MVT-D23 series.
The Dome and the base are separated. So on the dome, there are only three holes: two for zoom and focus lens adjusting and one for cable.
In these three holes, we add the waterproof plugs inside to achieve the waterproof. When produce the goods, we will do the waterproof testing. 

If you need the waterproof type, please let us know before you make the order.
As normally dome cameras are used indoor, we will not add those plugs inside.
Shenzhen MVTEAM Technology Co.,Ltd. is a professional China IP Camera,AHD Camera factory.If you have any inquiry about IP and AHD products,welcome to let us know.