What's WDR,HLC,BLC for Camera?
Nick You
www.mvteamcctv.com
2016-06-30 11:07:23
1. WDR(Wide Dynamic Range)
WDR function make the light area and dark area clearer.WDR is the ratio of lightest signal and
Darkest signal with DB as one unit.
Previously

the WDR function is caused by CCD which has special DSP circuit.The special circuit is able to process the light exposure and dark exposure together and make pefect picture or video.
Due to the limitation of CCD sensitive,it is difficult to make a backthrough.
However,

so far WDR of CMOS can be up to 160DB.120DB is real WDR.Less than 120DB is DWDR(Digital WDR).In future,the WDR from CMOS tech will capture the market of CCTV Camera.By the way DWDR function is that the picture is processed by the software not CCD or CMOS components.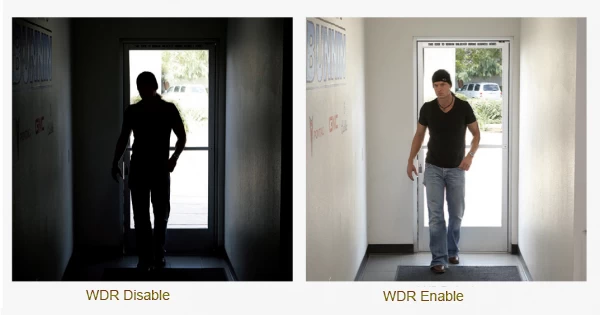 2.BLC(Backlight Compensation)
BLC tech is that the picture is splite into different regions and each region is with exposure.
It is impossible to avoid the backlight environment. It is helpful to compensate the darkness before backlight environment.
So base on the weak light or darkness area,the camera with BLC function will get better picture.
Below you can see the compare picture when BLC on or WDR on 
separately.

3.HLC(Highlight Compensation)

 
HLC function is helpful in preventing highlight from head of car,flashlight.The tech is specialized in detecting the highlight dot and make the highlight weaker.

 
It is usually used for Parking lot entrance,highway,toll station.It can capture the HD picture of car license plate at night.In current CCTV market,the ANPR camera or LPR camera must be with HLC function.

 

MVTEAM is a professional manufacturer and exporter of CCTV Surveillance & DVR equipments in Shenzhen China .If you still have questions about the WDR,HLC and BLC or have any inquiry about CCTV products, please feel free to contact us.