Why does camera image seem like snowflake at night?
Flora Li
www.mvteamcctv.com
2016-11-03 14:27:17
Have you encountered the problem that camera image is quite white, glare, and looks like snowflake at night?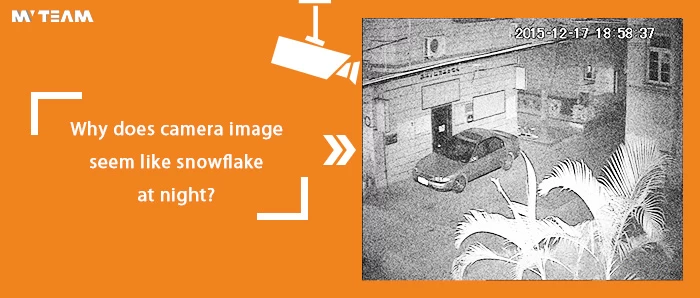 Here we summarize some reasons for the problem:
1-Poor quality IR Leds,IR distance and angle does not match with the lens
Some factories mix use different angles IR leds on one Led board,
the benefits
 is
one Led board can use together with different sizes lenses 
barely.
Disadvantage is angle of the Leds and distance are inappropriate with lens.
When the angle is not appropriate, prone to flashlight phenomenon or narrow electric phenomenon.
When the distance does not match, for example, use 12MM lens, but with 10m~20m IR distance, then there will be
blurry
, a distant blur and near snowflake. 
That's why MVTEAM doesn't have stocks,for each order,we need confirm lens with customers firstly,then choose matched IR leds to produce.

2-Power supply is not enough
If distance between power supply and camera is short, a centralized power supply 12V is very convenient. But if it is far away from power supply and camera, it is not suitable.
Because long distance IR LEDs have large heat, and current attenuation is fast in long cable, power current is not enough to make IR LEDs work.
3-In a dusty environment
In the daytime, IR LEDs don't work, the little dust cannot be seen. But at night, IR LEDs work, so that little dust can be seen by the camera. 
Shenzhen MVTEAM Technology Co., LTD 
TEL: (86-0755) 83129382 Fax: (86-0755) 82661081
Email:

sales@mvteamcctv.com