Buying Guide of WiFi Smart Camera
Shalyn
www.mvteamcctv.com
2017-03-17 15:18:48
If you can physically keep an eye on your home, business office or personal property while you are not around. It owes to the masterpiece of a state-of the-art WIFI camera that can stream real-time video to the device at hand.
Unlike traditional security cameras, network cameras, cloud cameras of WiFi Cameras don't require a closed circuit TV system and special cabling to surveillance work. Instead, they connect to your home's existing network via Router or WiFi, just like a laptop or tablet. Once connected, they stream live video you can access from any connected phone.
WiFi cameras are the great solution for business owners, house owners, pet owners, babysitters. In this article to give you some quick recommendations and info for looking for your next camera.
WiFi cameras for every need.
1.Wireless capability and size for flexibility of placement.
2.Low cost as you can purchase enough cameras to cover multiple areas.
3.Ability to check camera feeds from any iphone, Android.
Features Requirements
*

Remote Viewing App
You need a camera that allows you to see a live video from your smartphone. MVTEAM's mobile interface is a free app called "V12" and is available for Iphone and Android devices. With V12, you can view your home or office and your kids, pets from anywhere else in the world with WIFI, 3G or 4G connection.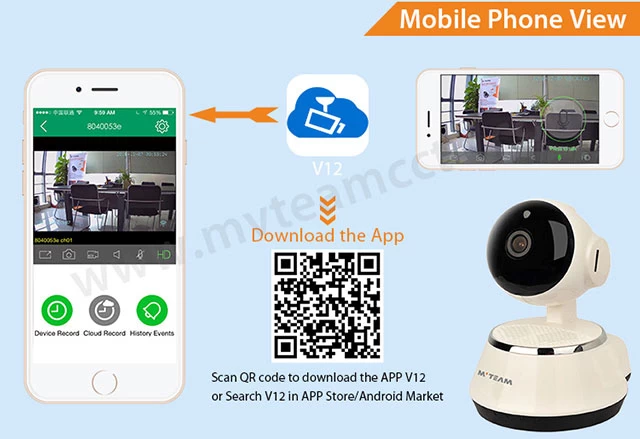 *Motion Detecting
If you choose to record footage only when motion is detected, you'll save space and know exactly what video you need to track down. If you place to record footage, select a camera that makes it easy to set motion triggers as well as specify recording schedules so you can record exactly what you want directly to a local microSD card.
*IR Night Vision
Some WIFI cameras with infrared night vision so you can clearly see what is happening day or night. Infrared lighting is invisible to the human eye but allows the camera a clear view, even in darkness.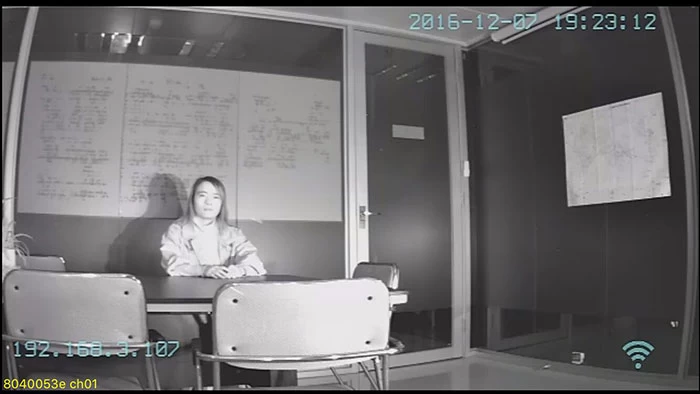 *Local Recording---Micro SD Card Slot
With micro SD card slot, so you can record directly to a micro SD card and playback videos from anywhere. To view the videos as evidence for something happened at the place you have been monitored. Do not have to fear of losing records which are saved in the locally SD card.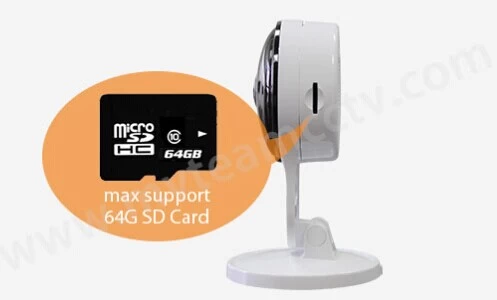 MVTEAM Hot Sales Cameras: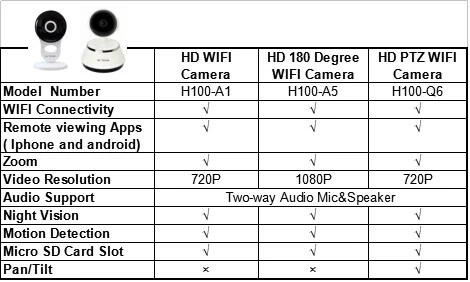 Get your perfect match
Think about your monitoring purpose and needs to select the network camera models that suit you.
*The Pan Tilt Zoom
No matter how many shoes they chew up or how many rolls of toilet paper  they shred, you love your pets. You need a camera with PTZ function and night vision, so you can get a clearer view of your lovely companion no matter where they wander.
Recommended Camera: HD Pan Tilt Zoom WIFI Camera (H100-Q6)
*The Classic
You may be new to the WIFI Camera and you want to try one before you buy more. So a quick, affordable home security solution will meet your requirement. IR infrared night vision and Motion detection in one camera.
Recommended Camera: HD WIFI Camera (H100-A1)
*The 180 Degree
You want to keep a watchful eye on those in care and monitor their daily activities. With a 180 degree lens you can capture an entire room with one WIFI camera, making it perfect for your open spaces.
Recommended Camera:HD 180 Degree WIFI Camera (H100-A5)