DVR vs NVR vs HVR - How To Choose?
Melody
www.mvteamcctv.com
2016-11-29 14:18:07
Nowadays since there are DVR, NVR and HVR, then some customers feel confused regards how to choose the right one. Today we will make this more easier for you.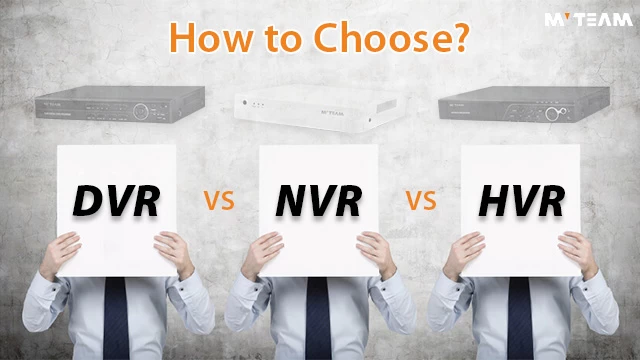 Like the names of all these devices imply, they are all meant to record video from security cameras. The main difference between them is what types of cameras they're meant to play nicely with.
Digital Video Recorder (DVR)
The DVR is intended to work with standard analog security cameras system, like HD AHD cameras, HD TVI cameras and HD CVI cameras.This doesn't mean that every DVR works with all of these cameras. These DVR categories simply line up with the previously mentioned types of security cameras.Standard HD AHD cameras are intended to be paired with standard AHD DVRs just as HD-TVI and HD-CVI cameras are intended to be paired with their corresponding TVI DVR and CVI DVR.
Network Video Recorder (NVR)
The NVR is paired with IP/network security cameras. There are two different kinds of network video recorder, but don't worry, they're both still used with IP cameras.  The first type, and much more common, requires that you connect your IP cameras to your router or a switch. This will mean using the search function on the NVR to "ping" the cameras and then add them to the NVRs device list to begin viewing.  While this is not a very complicated step, it may be one you don't feel like taking. 
In that case, the second option is to go with an NVR that has built in network or PoE (power over Ethernet) ports. This will allow you to connect your IP cameras directly to the back of your NVR just as you would with a DVR. This will remove the step of having to add them manually to a device list, and it will remove all worries of ensuring that they are connected to your network properly.
Hybrid Video Recorder (HVR)
The Hybrid recorder is quickly growing in popularity because of it's versatility.  Hybrid video recorders (HVR) are compatible with both standard analog signal and digital signal. Here need to change the channel types as the user needs, what we mean is that an 8 channel HVR can be 4ch analog signal and 4ch digital signal, namely can put 4pcs AHD / TVI / Analog / CVI cameras and 4pcs IP cameras.
Now it's not just the fact that you get a lot for what you pay for that makes them so attractive to consumers. Since here for the HVR you can connect perfectly acceptable AHD / CVI/ TVI/ Analog channels also the IP cameras.
It'll only be a matter of replacing the cameras instead of a DVR and all of your cable.  Depending on the size of your system, this can save you thousands of dollars on the upgrade.
So to sum up, as MVTEAM has the 5 in 1 Hybrid DVRs, can connect with the Analog camera, AHD cameras, CVI cameras, TVI cameras and IP cameras, if the customers have kinds of above cameras, then the Hybrid would be great option for saving the cost. But just have the IP cameras, then the NVR will be better. 
MVTEAM is the professional CCTV Security Manufacturer, any questions or request to our DVRs, feel free to contact us.