Hard Disk VS Cloud Storage-How to choose for video surveillance system?
Shalyn
www.mvteamcctv.com
2017-05-23 14:41:44
It is important for everyone to make sure that data is safe and secure. So as to your video surveillance system. If your system support both hard disk and cloud storage, it comes to whether to store video records on the cloud or local hard drive? Before making a decision, you could read this post about the advantages and disadvantages of this two different methods for storage which might be helpful for you.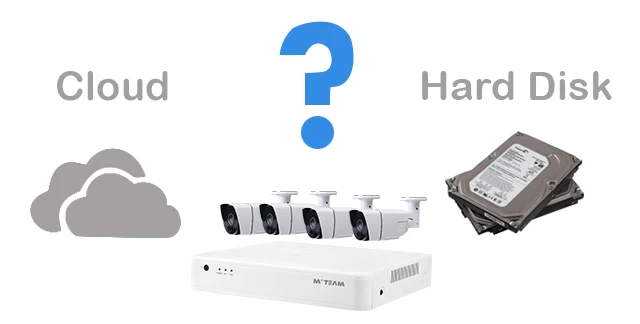 Hard Disk Storage
The best thing about the hard disk for data storage and back-up is that it's within your control. Everything backs up in minutes and you are the owner of the data. You have full control of your backups, which mean better control of who accesses your data. It can prevent your data from some of attacks.
However, this means your storage hardware is vulnerable to anything that happens to the physical spots where it's located. If there is a fire, natural disaster, or theft, your data could be lost. Therefore, you will be required and reminded to backup data regularly to make sure you have copies for any contingency scenarios. To make sure you have plan B to keep your data alive. 
Cloud Storage
There is a cost-efficient solution for data storage----the cloud. For maintenance, it's not an big deal as cloud storage providers deal with all of the upgrades and troubleshoot any issues that occur. Moreover, if you need to increase storage space, it is as simple as notifying your service provider to get it done if you need to increase or decrease space as needed. As well as, data stored on the cloud is easily accessed on any devise that has an internet connection. You can log in your cloud account and your data is there when you need it.
Nevertheless, speed is one disadvantage. If you have a lot of data to upload, and your internet connection isn't the fastest. It will take a long while for backing up your data.
Besides, it's hard to prevent data from hackers to embezzle it. Then you should find a reliable cloud service provider to save your data. 
It turns out that local storage and cloud storage you can have both for different circumstances. These two options are indispensible for our human. You can use either way for different situations, vice verse.