How many different resolution in CCTV Surveillance System?
Melody Ke
www.mvteamcctv.com
2016-02-19 10:43:38
We have been asked about the camera and DVR image resolution by some customers frequently,today we will clarify the most common image resolutions in CCTV field.
First as all we know the "TV Lines"(TVL),it is for the Analog system, but since we step into the HD (High Definition) world , we use the digit to represent the resolution, here comes the "pixel".
At present, there are two main kinds of the TV System around the world, namely PAL and NTSC; these two systems have a little difference in expressing the resolution.Always we can hear of the resolutions like : CIF, D1, 960H, 720P, 960P,1080P...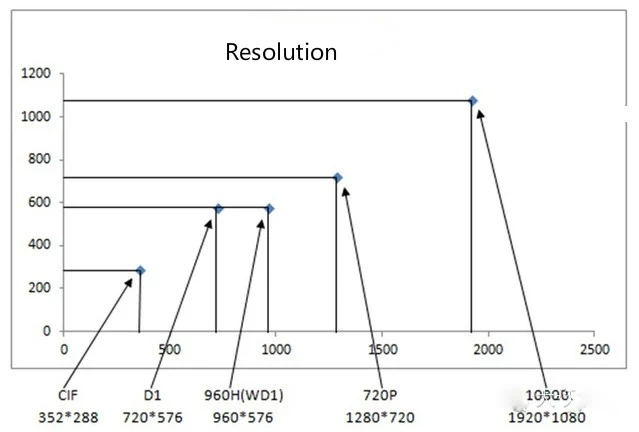 CIF:

That is the resolution used in the early stage of the CCTV system , for the PAL the resolution stands for 352*288=101,376; for NTSC 352*240
D1:

For PAL System is 720*576=41,4720; for NTSC the resolution is 720*480
960H:

Also named WD1,it is the highest resolution for the analog system, this resolution for PAL is 960*576=552,960; for NTSC means 960*480
720P:

From the 720P,there is no any difference in resolution for PAL and NTSC, and the video will be called High Resolution since the 720P. Here 720P means 1280*720=92,1600, around 100,0000 pixel. So we call the 720P resolution 1.0MP.
960P:

Also can be described 1024P, it is developed from the 720P; the resolution is : 1280*960=122,8800, we usually name it 1.3MP.
1080P:

It is the Full High Definition,got the very good image quality, can be counted as 1920*1080=207,3600, around the 200,0000 pixel;so that is what we generally called it 2.0MP. 
After reading this article, you definitely will have a general view of the resolution in CCTV system, any further questions feel free to contact us.
Shenzhen MVTEAM Technology Co.,Ltd.
is a professional
CCTV products
manufacturer and exporter,with more than 10 years of solid experience on worldwide market, providing a comprehensive range of CCTV products to serve your needs on CCTV Security applications.