How to Choose and install Hard disk for DVR?
mvteam
mvteamcctv.com
2015-11-06 15:40:14
Most of the customers buy the DVR and hard disk from different suppliers.
So they should choose and install the hard disk by themselves.

Below are the important tips when choose and install the hard disk:
1- The hard disk for DVR is 3.5" one, the size is same as desk computer hard disk.
    Green one usually is for computer, blue one is the professional for surveillance.
2- The hard disk brand is not limited for the DVR, but suggest to choose the good brand like Seagate and Western Digital.
3- There are two cables need to connect when install the hard disk, one is data cable, another is power cable. Below is the photo to show you the steps to install the hard disk for DVR.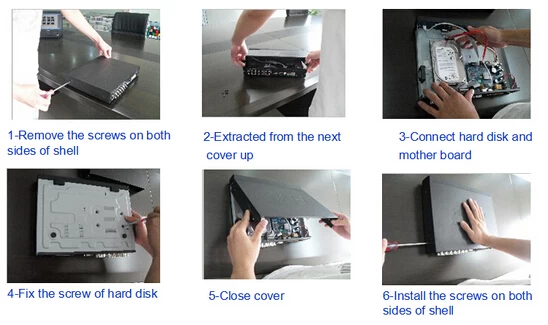 4- As HD is the trend of the CCTV industrial,such as megapixel HD AHD, HD CVI and HD IP camera,etc.then the hard disk will need more capability like 3TB or 4TB to record the videos.When you install 3TB or 4TB for the DVR, we suggest you to use 4A or 5A DVR power adaptor to make sure the DVR can work fine.