How to connect AHD Cameras and IP Cameras to a Hybrid DVR?
Shalyn
www.mvteamcctv.com
2017-01-05 15:03:50
Thanks to the new technology for hybrid DVR has been launched. MVTEAM possesses hybrid 5 in 1 DVR supports CVBS, TVI, CVI, AHD, IP five modes. You can connect different modes of cctv cameras together by one hybrid DVR. Those modes are mainly divided into two types: analog and IP. However, CVBS, TVI, CVI,AHD are classified as analog modes. Meanwhile, there is a vital point when connect cctv cameras to the hybrid DVR. That is to say analog cameras and IP cameras need to share channels equally fifty-fifty. For example, a 16CH hybrid DVR connects 8pcs analog cameras and 8pcs IP cameras. Then the hybrid system will work with two different systems successfully. Following is the diagram show how to connenet.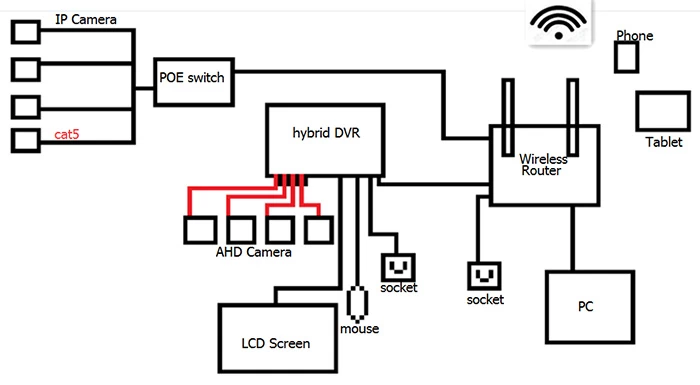 Any more qusetions, please don't hesitate to contact us. MVTEAM will keep you updated of the latest news in CCTV field. Welcome to click www.mvteamcctv.com for more details.