MVTEAM Mid-autumn Festival & National Day Holiday Notification
mvteam
www.mvteamcctv.com
2015-11-01 15:14:44
For the 2015 Chinese traditional Mid-autumn Festival, it happens to the weekends (September 27, 2015), so MVTEAM will celebrate it with families and friends.
For the National Day holidays, we will have 7 days off from Oct.1-Oct.7 2015, and sorry for the inconvenience caused during this period.
China has so many amazing traditional festivals,you must be very curious about that.
Today I will share our Mid-autumn Festival with you.
What's the Mid-autumn Festival? Is there any special food Chinese will eat ?
The Mid-Autumn festival, also known as the Moon Festival, is one of the most celebrated and romantic traditional festivals in China ,is celebrated all over the country. Like many festivals, it's doubled-up with food -- roasted turkey with Christmas Eve, chocolate with Valentines' Day, and what's the MUST EAT on Moon Festival? --Moon cake.
In traditional Chinese literature, the moon is often associated with long distance, missing someone, reunion and home. Chinese tradition firmly believes that there is only one moon visible in the universe, so THE moon becomes the connection between families and friends who are scattered all over the world. During traditional festivals, which remind people of a shared history and cultural identity, Chinese tend to feel more homesick than ever. Just as the famous poet LI Bai (李白) wrote: Looking up you see the bright moon, looking down you miss your hometown (举头望明月,低头思故乡).
Eating Moon Cake
When watching the full moon, eating moon cakes is significant part in mid-autumn festival throughout China. Full moon in China is a symbol of family unity.
At the very beginning, the moon cakes were served as a sacrifice to the Moon. The words moon cake first appeared in the Southern Song Dynasty, even though, at that time, the moon cakes were not round.
Nowadays, moon cakes are given as presents to loved ones and it represent people's wishes to be together during the mid-autumn festival. Still the Full moon in China is a symbol of family unity.
It is very delicious and beautiful, if one day you will come to China you must have to taste it.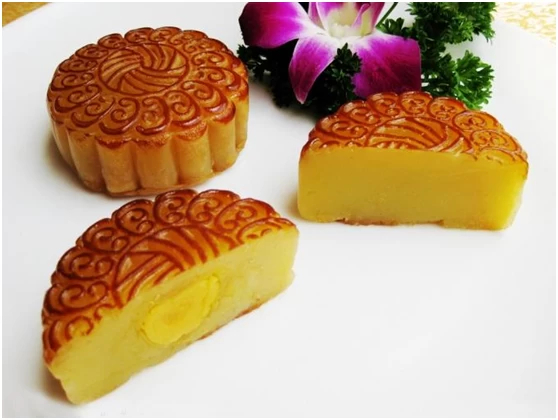 After the Mid-autumn Festival, there is coming the National Day, October 1st, 1949 was the memorial day for the founding of the People's Republic of China. Ever since 1950, every October 1st has been grandly celebrated by Chinese people. It is the seven-day holiday from Oct. 1st to 7th , so also called "Golden Week", during which more and more Chinese people go traveling around the country and abroad.