Common Misunderstandings about IP Surveillance System
Grace Liu
www.mvteamcctv.com
2016-11-08 16:06:41
People who know less about surveillance products often have below misunderstanding about IP surveillance system.The c
ommon misunderstandings maybe
misguide you to choose a 
improper system.Here will list the three common misundersandings for your reference.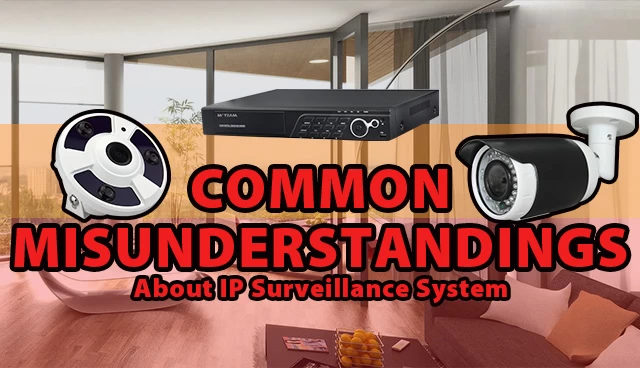 Misundersanding 1:

The higher the resolution, the better 
Do not blind pursuit of high resolution, h
igh resolution requires high code stream support to be achieved(refer to table 1). 
The higher the resolution, the larger the code stream, the more hard disk occupied per unit time.
Some manufacturers advertise the "high-resolution, low stream" to attract people's attention,
but if frames is not enough,image will delay longer time,then high resolution is no use.
Secondly, the resolution determines the night vision image quality? actually not,
night vision effect is mainly determined by the sensitivity of CMOS chips. 
Format

Resolution

Pixels

Recommend Bandwidth

720P
1280*720
1MP
2M
1024P
1280*1024
1.3MP
3M
1080P
1920*1080
2MP
4-5M
1536P
2048*1536
3MP
5M
4K
3840*2160
8MP
More

 

than

 

8M
Table 1:Resolution and recommended corresponding code stream  
Misundersanding 2:
All ONVIF IP Cameras and NVRs are compatible 
In the era of pursuiting personalization,some consumers want to combine different brands

surveillance products 

according to their own preferences.They think as long as the products supports ONVIF, then can achieve interoperability, compatible use and unified management.However, not entirely correct, if the front-end cameras and back-end NVRs belong to different brands, although most of the functions can be achieved thru

ONVIF protocol,

 but due to the limitations of public agreement, the back-end part will can not operate some functions of cameras.For example: IP address changes, parameter settings, alarm linkageetc., need professionals staff do the settings thru CMS or IE browser.
In addition, there maybe ONVIF docking problem between different br
ands products and some uncertainties factors still there. Therefore, considering compatibility issues,  it is best to buy the same brand products, because the private protocol docking is the best choice. 
Misundersanding 3:The big
ger

 focal length of lens, the better
People often want to buy the cameras which can see far, wide, and also must be clear.However, different lens only can 

achieve the best results 

within a certain range.For example, focal length of home surveillance cameras are usually divided into 3.6mm, 4mm, 6mm, 8mm, 12mm etc., 3.6mm lens is a wide-angle lens with wider monitoring range fit for a small space,But in open space,wide-angle lens maybe even can not see faces clearly; If want to see the faces,  need select the bigger focal length lens which fit for corridors ; Of course, the choice of how much focal length of the lens mostly are decided by the monitor distance.If the monitoring area is with longer distance and wider range, then it's better to increase the number of cameras.