Common Types of MVTEAM Infrared CCTV cameras
Melody
www.mvteamcctv.com
2017-01-03 11:32:53
Since the Infrared Technology has been discovered in 1800 by the England astronomer Herschel, these highly desired units also have developed widely since first appearing in the CCTV Security industry. By developing 20 years, the infrared (IR) cameras become very popular and so common.
Majority of people is familiar with infrared camera. Infrared cameras are the most widely used for video surveillance systems nowadays, especially for residential security, MVTEAM has two kinds of the infrared CCTV cameras.
1.Infrared (IR) LED CCTV camera
LED infrared light is composed of a number of infrared light-emitting, like here MVTEAM infrared CCTV cameras are ambient with 12pcs, 24pcs,36pcs,42pcs and 72pcs Φ5 IR led. With all of these IR LEDs, the camera can work at night.
When visible light drops below its preset threshold an IR camera switches to IR mode. If it has IR LEDs, they become active. Video output becomes black-and-white. The quality, sharpness, and the range at which a picture can be "seen" by the camera depends on the amount of IR light available and of course the camera's lens, type of video sensor and support circuits.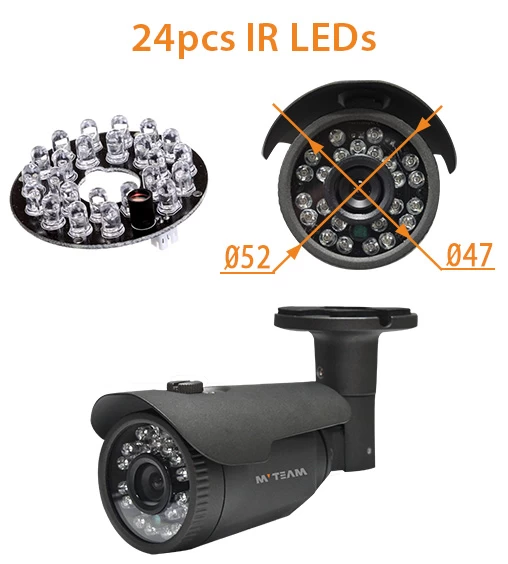 2.Infrared LED Array CCTV Camera
Array camera is one of the infrared cameras,MVTEAM has the LED Array cameras with 2pcs 3rd generation LED Array and 3pcs 3rd generation LED Array.
Compared to the Infrared LEDs, infrared LED Array with more wide emitting angle (some can reach up to 180 degree).
For more information about MVTEAM infrared CCTV cameras, just feel free to contact with us.