Factors Affecting the image quality of IP Cameras
Grace
www.mvteamcctv.com
2017-05-31 14:57:40
What are the factors that determine the image quality of a IP Camera? 
By changing which factors can change the camera's effect? In this post, we will explain the factors one by one.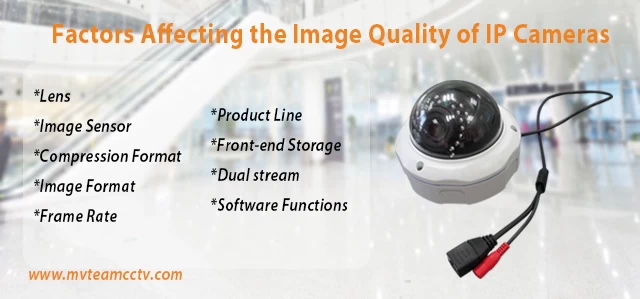 Lens
The lens is the first step of the video capture, the quality of the lens affect the video effect, the focal length of lens affect the camera's viewing angle and range, which means that you need consider to choose fixed lens or vari-focal lens cameras.
Image Sensor
There are two kinds of sensor: CMOS and CCD. In the same pixel, CCD is with better permeability, sharpness and color reproduction. But CMOS video image is with better artistic effect.
Video Compression Format
The video compression format determines video clarity, video fluency, and video storage. At present, there are H.265, H.264 and MPEG4 two video compression algorithms. H.265&H.264 compression ability is stronger, less video loss , more clear and smooth. H.265&H.264 can support 25 frames / second frame rate, MPEG4 supports less than 10 frames / sec. This means that the MPEG4 video is not coherent, not real-time. MVTEAM can provide both H.265 and H.264 IP cameras, no MPEG4 IP cameras. Althrough H.265 and H.264 have the same advantages then MPEG4, H.265 and H.264 also have differences, for details please check: 
How does H.265 IP Camera help you save cost?
Image format
The image format is the actual pixel that determines the video image, divided into DVD format, VGA (640 * 480) format and CIF (352 * 288) format. The DVD image format contains D1 (720 * 576 interlaced), D2 ( 1024 * 720), D3 (1920 * 1080 interlaced), D4 (1280 * 720 progressive scan) and D5 (1920 * 1080 progressive scan) five image formats, currently on the market mainstream support D4 and D5. Video file size of different pixels is not the same. The IP camera image format can be adjusted, if your hard disk space is not large enough, but it needs to record a long time, you can reduce the image format to achieve. MVTEAM mainly produce 4MP, 2MP and 1MP image format IP Cameras.
Frame rate
Video file is composed of the continuous pictures, a picture is a frame, such as one second length video is composed of 25 consecutive pictures, then the frame rate is 25 frames / sec. In the PAL system, 25 frames / second video is real-time video. If less than 25 frames, the action in the video will be less coherent. So the frame rate is very important in video surveillance. This parameter will be displayed in the video monitoring interface.
Dual stream
Many IP cameras are designed to support two video signals, also named dual stream. The advantage of the dual stream is to use one stream for living view, use another steam for storage. Dual stream can prevent network congestion than using one stream for both viewing&storage, which can better protect the fluency of video in the effective network bandwidth. All MVTEAM IP cameras support dual stream.
Front-end storage
Some IP cameras with SD card slot or USB mobile storage interface, we call it front-end storage. Front-end storage is often used in monitoring environments where bandwidth is not sufficient. Some of the environment is not easy to install broadband etc. MVTEAM wifi smart cloud IP cameras are with SD card slot, max support 64GB SD card.
Product Line
Most of the larger monitoring system adopts a variety of products models. As the softwares from different factories are difficult to compatible. Therefore, when choose brand for the monitoring system, you must consider whether the brand has a rich product line to meet the needs of various environments, as well as system solutions. Such as support for infrared, WIFI wireless, POE, fiber access, PTZ, zoom, and whether there is a video server in order to be able to combine with some special analog cameras and whether video decoder can access to TV wall.
Software Functions
Most of the monitoring system needs to be centrally managed, so a powerful and friendly video management software is necessary.
In addition to the above nine factors, the infrared night vision ability, ultra low illumination, wide dynamic, HLC, POE and other functions of the IP camera is also an important parameter. In summary, the selection of ip cameras need to master a certain degree of expertise and more patience. Hope you can choose the right IP cameras after reading this post.