Five Most Important Parameters of CCTV Camera
mvteam
mvteamcctv.com
2015-11-11 13:55:57
When choosing CCTV Cameras, you may see the detailed information about the products. Below are the most important parameters you need to care about:
1. Sensor: CCD or CMOS
The first parameter you have to consider is the sensor. Different sensor has different effect and price. In the condition of the same resolution, CCD has better color image and better performance at night, but the price of CMOS is cheaper.
2. Resolution: 600/700/800/900/1000 TVL
Higher resolution means better image quality. The quality is as following : 1000TVL>900TVL>800TVL>700TVL>600TVL.
3.IR Distance: IR distance depends on the quantity of leds and its power.
For same size led, more quantity, further IR distance. Most cameras are with 15-30 meters IR distance. For big lens cameras, can reach 50-100meteres. There are two kinds of led in the market:common LED and the 3rd LED Array. The 3rd LED Array has less quantity but further IR distance. It can save more energy but a little expensive than common led.
4.Lens: vari-focal lens and fixed lens. 2.8-12mm,3.6mm,6mm,8mm are common lens for MVTEAM Cameras.
Small lens has wide view angle,but short view distance. Big lens has narrow view angel,but long view distance. Details as below: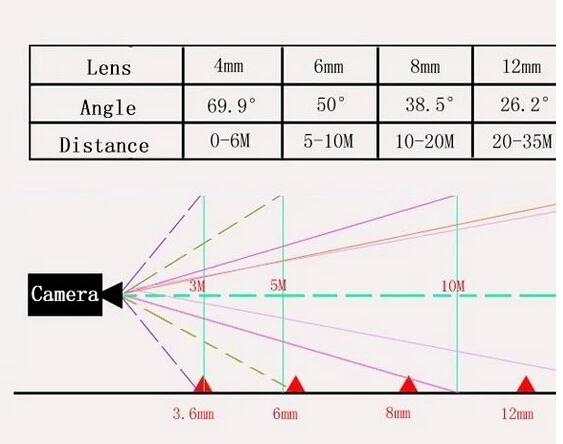 5.Housing: Dome housing is suitable for indoor use while weatherproof housing is suitable for outdoor use.
Vandalproof dome housing can keep the camera from being broken. But the price is higer than plastic dome housing. IP66 is a standard for weatherproof cameras. It can keep the camera safe from rain and dust.