MVTEAM IP Camera Introduction
mvteam
mvteamcctv.com
2015-11-11 13:54:49
IP camera (Internet Protocol Camera), is a type of digital video camera which is based on network.
It has network connector RJ45. So IP camera can be connected in LAN and WAN.
MVTEAM IPC Video Demo: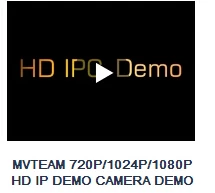 Following are the features of MVTEAM IP Camera:
--All the IP Cameras are megapixel.
--All of them are CMOS Sensor.
--Most of them support POE, all of them support ONVIF
--Both IP camera and NVR are with P2P, easy for remote view by PC, mobile phone
--NVR can automatically search IPC in LAN, don't need modify IP address or other manual operations
--Easy to manage,CMS software of IPC and NVR are the same.
Also,some IP cameras can support the TF card/Micro SD card to store the video records.
IP cameras with Wi-Fi function can help users save network cables as well,more convenient to install.
There are still many other advantages for IP cameras. And with the development of techology and spreading of network, the cost of IPC will reduce. This will make IP Cameras growing faster.

MVTEAM is trying to do better and better to keep pace with the development and meet the needs of customers.