How to connect alarm devices to CCTV DVR?
Grace Liu
www.mvteamcctv.com
2016-10-26 11:59:51
Most DVRs have alarm input and output ports,it means the DVRs support alarm devices.Then,do you know how to connect alarm devices to DVR?Here we drew two simple diagrams to explain it.
Usually,the DVR alarm output port is without 12V DC,so you need add power for alarm output device.Diagram 1: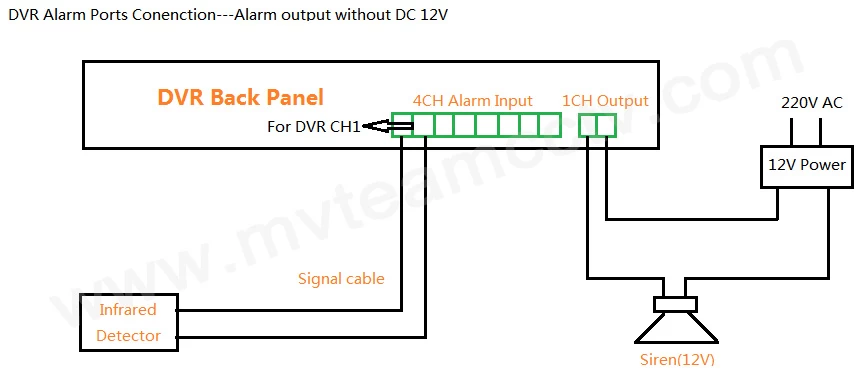 But,if the DVR alarm output port 
with 12V DC,then 
only need connect siren to the output interface,no need addtional power.Diagram 2: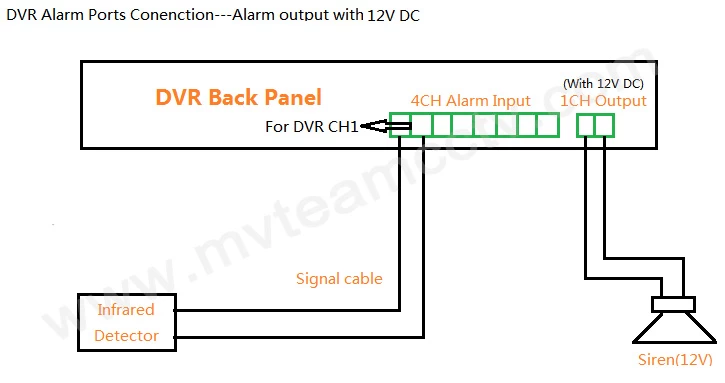 How to know the DVR alarm output with or without 12V DC?
Open DVR menu,enter "alarm setting" interface,click "alarm output",then,use multimeter to test 
w
hether there is 12V DC in DVR alarm output port.If there is 12V DC,connect as diagram 2.If no,connect as diagram 1. By the way,MVTEAM DVRs don't have 12V DC output at alarm ports.