Megapixel High-Definition IP network Cameras
mvteam
mvteamcctv.com
2015-11-05 15:25:48
Definition:
HD IP network camera means the resolution of camera can reach 720P(1280*720), or even 1080P ( 1920 * 1080). If cameras can meet 720P HD standard, then it can be at Megapixel Level. So IP HD network cameras are also called Megapixel network cameras.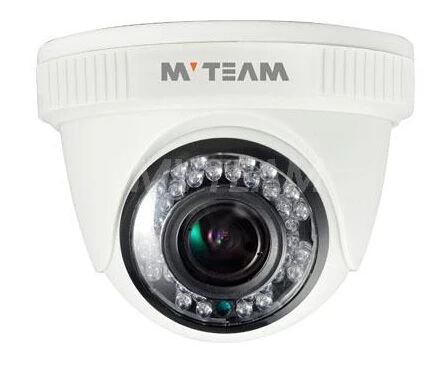 Basic features of Megapixel HD IP cameras:
1.Most cameras can simultaneously support two H.264 stream, one MJPEG stream, suitable    for the local LAN, WAN and cross-platform screen capture.
2.Most cameras use CMOS sensor, support 720P (1280 * 720), 640 * 360,320 * 180 real-time video coding.
3.Support external microphone or sound monitor, remote monitoring live sound; also support external speakers, transmit sound remotely to live place, two-way intercom function, support echo suppression function.
4.Support 802.11b / g / n protocol, support built-in wifi module, flexible to form wireless monitoring environment.
5.Support maximum 32G SD (now to 64G SD) card storage, enabling alarm photo and alarm video.
6.Support four regional motion detection, can connect external alarm detector and achieve comprehensive on-site deployment.
7.Built-in WEB server, use one port to transfer all the data, convenient for users to do network settings.
8.Support viewing video on various browsers, such as IE, Firefox, Safari, etc. can use smart phone to view the video.The manufacturer assign a domain name for each device, when the equipment is connected in public network,can use the domain name to visit the equipment. The manufacturer provide free client software, multi-screen monitoring long time recording, video playback and other functions.
Advantages of Megapixel HD IP cameras:
1. Using megapixel sensor that can get more video data, generally reach 1280 × 1024,1392 × 1024,1628 × 1236 or even 2048 × 1536 resolution
2.Image display higher quality, able to capture the details better
3.Scan CCD / COMS motion image more smoothly
4.Support wide-screen HDTV output mode (16: 9)
5.Wider coverage,can replace the original multiple cameras and a full range of fixed-point cameras in the same surveillance area.
For details of MVTEAM Megapixel IP Cameras, please visit http://www.mvteamcctv.com/products/IP-Camera-NVR.htm .