Mobile Monitoring Play an Important Role in the Security Surveillance Industry
Sunshine
www.mvteamcctv.com
2017-04-18 11:03:56
Mobile video surveillance is a mobile video image and closely with the security industry.Through the mobile phone or computer to monitor the remote real-time dynamic picture, and provide a more simple, more convenient and more timely monitoring solutions for enterprises and families .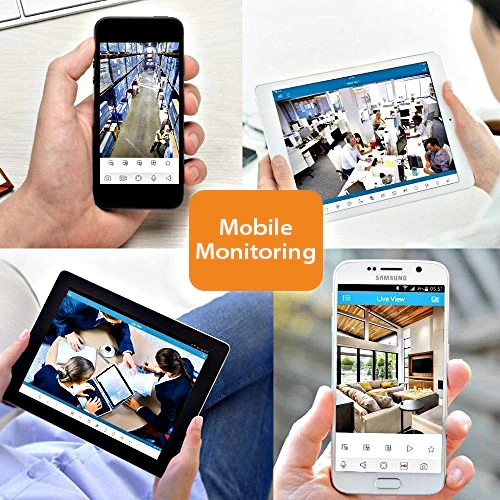 The ways of mobile monitoring
1)P2P
Video surveillance system is widely used in all aspects of daily life, but the traditional analog signal monitoring system has become increasingly perfect,so a new way has been produced -P2P Network Camera.P2P network camera allows users to remote access anytime, anywhere.
2)Cloud Platform
Cloud monitoring is a hot topic in the security industry.Cloud Platform is refers to take advantage of Cloud computing, cloud storage, data center, business intelligence and other technical concepts in the IT development.Through the practice of large-scale security, to achieve the date more information and technology.
By cloud monitoring , it can more reflect the various needs of mobile monitoring and achieve the user's convenient operation.
The function of mobile monitoring
1) Audio and video recording : You can monitor the image, the sound point to implement the video (real-time, timing, alarm), and can use a variety of combinations of conditions to check the video file.
2)Online playback: the client can play online through the network to check the video file, and can achieve forward, backward, fast broadcast, slow, pause, screenshots and other functions.
3) SMS, e-mail notification: you can use SMS, e-mail and other forms to inform the users.
4)Voice intercom: PC client can be through the network and designated monitoring point to achieve two-way voice intercom.
All MVTEAM CCTV Products support mobile monitoring,come with free cms software and mobile app.Our main products are wifi smart IP camera,Megapixel IP Camera, AHD Camera,Hybrid DVR, Wireless NVR Kit etc.If you have any inquiry about those products,welcome to contact us.