What is Port Forwarding and P2P Cloud for DVR/NVR?
Grace
www.mvteamcctv.com
2017-07-25 15:59:14
Port forwarding

is the way your DVR/NVR to establish remote connection with the APP/CMS of your surveillance device on phone/PC. Each DVR/NVR comes with unique ports. Each port must be opened through your router.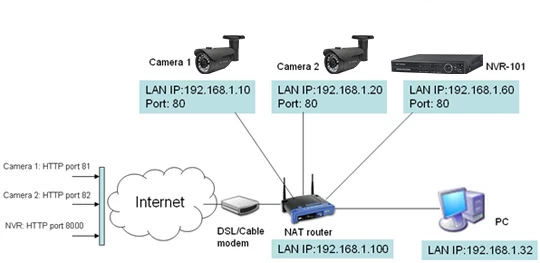 P2P or cloud

connection is a new procedure for the surveillance devices to make connection with the camera APP/CMS on our phones/PC. Unlike the port forwarding, they do not require any ports to be opened. MVTEAM DVR/NVR come with device ID burned into the units that establishes connection to the Phone/CMS as below:
The cons and pros for port forwarding and P2P
Port forwarding does not require server running in the cloud for connection and usually connection readily available after ports are opened. The downside with port forwarding, it requires the IP address of the NVR/DVR and ports to be the same and opened correctly. If your router resets or the local IP address of your security system changed, the procedure of opening the ports must be repeated.
When using P2P cloud, just connect DVR/NVR to internet, you can remote access DVR/NVR via device ID on phone/PC. But for good streaming speed and low latency, P2P cloud server must be localized. In addition, P2P is limited with how many users running on that cloud service and access their cameras system, putting load on the cloud server. 
Both port forwarding and P2P require good internet connection of your phone/PC. And we suggest our customers use P2P cloud for remote view as port forwarding is a little comlex and nearly no company can provide free DDNS for port  forwarding remote viewing.