How to Detect CCTV hidden Cameras in Hotel Rooms?
Judy Du
www.mvteamcctv.com
2015-12-03 11:42:15
CCTV cameras are used to protect people's safety. But it's also reported that some hotels , fitting rooms,
washing rooms, some kind of these places are installed hidden cameras which violate people's privacy.Many people
may be anxious and vigilant that whether they're being monitored by cameras when they enter these places. Here we
will show you several ways to detect if there is CCTV cameras installed and if you're monitored secretly in the
places like hotels.
Step1

:

Keep quiet

 – When you enter a room that you suspect to have CCTV cameras, keep quiet and listen to any buzzing
or clicking sound. Some types of CCTV cameras produce clicks or buzzes when they are working. If you can hear
these sounds, follow where they come from and see if there is really surveillance camera installed in the rooms.
Step2

:

Search in the entire room

 – The best way to look for CCTV cameras is to search in the room. Surveillance
cameras are usually hidden in different objects of the room like smoke detector, speaker, flower vase, light
fixtures, picture frames, table tops, shelves, etc. You should not only look for the camera but also microphone as
well. Also, if you can't see the camera or microphone, you may look for wires that may belong to the surveillance
system. Since CCTV cameras are usually hardwired, you can easily detect their wires.
Step3

:

Turn off the lights

 – Turn off the lights, look for any light indicator like LED light that may come from
the CCTV camera or surveillance microphone. However, this may not help you at all if the owner has sealed the
light indicator of the surveillance system.
Step4:

Lookout for one-sided mirrors –  While the lights are off, grab a flashlight and carefully examine all
mirrors.These can be made transparent from one side so that a camera can see through, but they rely on the
observer's side being darker than the area observed in order to keep the other side of the mirror reflective.

Step5:

Use your cell phone –Use your cell phone to pick up an electromagnetic field. Place a call on your cell phone,
then wave the device around where you think there might be a camera or microphone. If you can hear a clicking noise
on the call, it means your phone might be interfering with an electromagnetic field.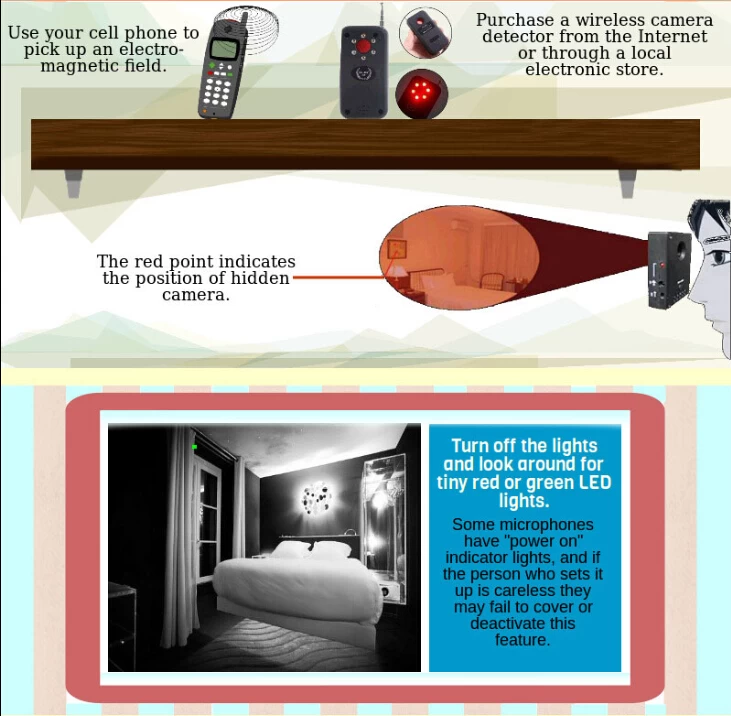 Tips:
* Check hotel rooms.
* If you find something, don't let the cameras know you're looking for them,act as you hadn't noticed it, just go
outside and call authorities.
MVTEAM is a professional CCTV cameras manufacturer. Our products are installed in public places like shopping mall,
banks, schools, stores,etc, to monitor if there is any crimes occurred and to keep people's safety.
Here we appeal that please don't use CCTV camera inappropriately like in women toilet, bathroom,hotel
rooms,fitting room...