How Long Video Records Does a TF Card Can Save for Wifi Cameras?
Grace
www.mvteamcctv.com
2018-04-25 14:44:42
MVTEAM wifi smart security cameras are with TF card slot, secure your videos on a TF card (micro sd card), own your video content and access video history anytime.
The cameras supports 8GB to 128GB TF card, no come with TF card, many customers ask how much capacity TF card they should buy if want to record for 7 days , 15 days, 30 days etc..
In this post, we will list the recording time of different capacity TF cards.
Following are the results we tested in high traffic and low traffic enviroments.
Since the record time will be a litte different based on different working envirnment,
the data is only for your reference.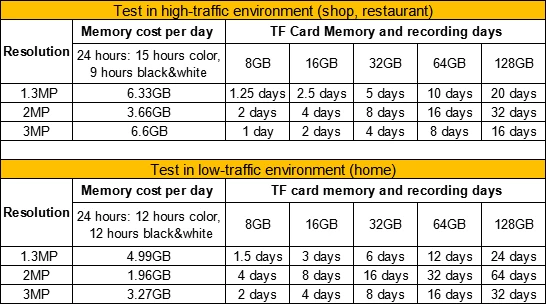 Hope above data can help you choose the suitable capacity TF card.
If you want to resell the wifi cameras in your market, please don't hesitate to send us your inquiry.
Email:

sales@mvteamcctv.com
Skype:

cnmvteam
Whatsapp, wechat, mobile phone:

+86 13632876665